VIGGO, The Pop Group That Dares to be Arty and Honest
We have a chat with the new interdisciplinary band VIGGO about their music and Oslo, and show the MV for Be One here exclusively.
Hi VIGGO! We know you are Sjur Miljeteig, Charlotte Qvale and Marte Wulff, but considering that press releases and wikipedia probably don't do you justice, could you introduce yourselves in your own words?
Sjur:I have one leg in jazz, playing the trumpet; and one in electronic music. Nowadays my working life contains mainly of composing for theatre/contemporary dance, combining my two legs in different combinations. When I discovered music for real, at around the age of six, I had three heroes: Elvis, Louis Armstrong and Talking Heads.
Charlotte: My parents bought me an old piano when I was seven. It had been standing in the cantina at a tobacco factory, and it smelled of cigarettes. I was very intrigued, and so were my friends, by this huge, smelly piano. I started learning my friends' favourite songs by heart and held concerts for them in our basement on a regular basis. Since then I have gotten myself an education in acting, directed quite a lot of plays and art performances, and released a solo album hitting the national radio playlists for 52 weeks. Growing up I had one true hero: Michael Jackson. David Bowie and Björk entered the hero list as I grew up.
Marte:I have been working as a solo singer and songwriter within the piano-pop and folk genre for over a decade, releasing 6 solo albums, and touring all over Norway. I still mostly play duo and solo shows with no electronic music involved, so doing VIGGO and being part of an actual band, where it is not all up to me, is so much fun. I have always been a sucker for beautiful melodies, no matter the genre, and original voices who touch a nerve. Lately I am increasingly interested in instrumental music and classical stuff, things I have more or less neglected in the past for some reason.
All three of you have had a lot of experience in the music industry. How did you all meet and decide to do VIGGO together? 
VIGGO: The three of us had met and worked together more or less coincidentally on several different projects in the past, and because we immediately enjoyed each other's company so much and greatly admire each other as artists, we started looking for a good excuse to spend more time together. The big decision was made over a beer. Marte and Charlotte started sending sketches to Sjur, and he returned them after having given them a shape. From then it has been an amazingly fruitful process of meeting in the studio and developing these sketches together.
We all think of this as a lifetime project, a way we can grow old together and create something meaningful in an ego-free environment at the same time.
That sounds absolutely adorable! How about the music style? The first two singles that have been released —
Habit

and

Be One

— have strong influence from the more "classic" electronic pop/new wave sounds from the '80s and '90s. Why did you choose electronic pop as the genre for VIGGO while all of you have done music in different genres before?

S: When we started this project, our only ambition was to have fun. For me, the sounds of the world in my childhood (I was born in 74) has haunted me in my work for many years, but this is the first time I shamelessly really dive into the (pompous) beauty of the '80s. Not that I try as hard as I can to make it sound like this, but that's what happens when I close my eyes, open my heart and tweak the knob.

C: I feel absolutely the same as Sjur about this. Working with VIGGO to me is just letting go and following my instincts. The genre was no choice, this is just what happened. I think this free-floating creativity is within reach because we leave our egos at the door to the degree this is possible.

M: It suited the way we collaborate. And it felt right for all of us — even though none of us really operates in this specific genre in our respective solo work — so we went for it. It seems to be the natural form of our common musical ground, so to speak. We are all children of the '80s and '90s and appreciate the passion and naivety of the music we grew up with. It's familiar, yet freeing, to let the creative forces come together the way they want to, without any of us needing to shape it into something like what we have done before.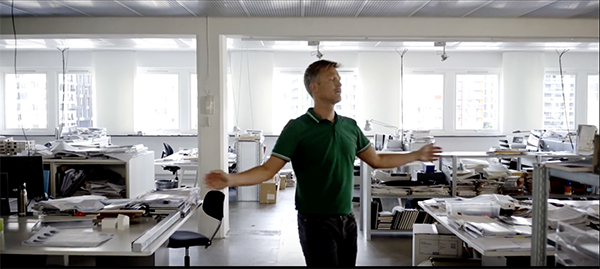 Geir Hytten dancing in a local architecture firm in the MV for "Habit"
We know that VIGGO is an interdisciplinary pop group, meaning that you are combining other art forms with music. So what can we expect from a VIGGO's performance? Will it be similar to a theatre performance or an art installation?
VIGGO: The answer here would be yes. It is still too early to describe exactly how it will play out, but we will never be a classic band and other art forms will play a significant role in our performances. We would like to create a dynamic universe rather than a locked artistic image, but we are probably as curious as you guys as to see how it will turn out in the end.
What are the inspirations for VIGGO? What groups do you look up to, or take inspiration from?
S: It is very difficult to point out the direct inspirations, it's not like we sit in the studio saying "this snare should sound like Beyoncé and the hi-hats like the Police", but I guess you can say the soundscapes from the '80s pop art scene (Bowie/Brian Eno/Peter Gabriel/Kate Bush etc.) has had quite an impact on our musical preferences.
C: I am very taken by great soundtracks, and when I create music it is often based on pictures in my head. I also love that making music in general feels like dragging all sorts of strange things out of a treasure chest and putting them together, and this feeling has never been stronger than when I am working with VIGGO. All our references and personal taste melt together into something new. 
We love the concept of a music video series that has some form of continuity or consistency. In VIGGO's case it's the modern dance choreography and directing by the director Antero Hein and dancer Geir Hytten that create the blueprint. The first one
Habit

is more playful;

Be One

is full of tension and tumultuous emotions; what can we expect from the third one? And how many more can we expect from the series?

VIGGO: Habit was he first and Be One is the second video in a series of four, following our alter ego VIGGO, the loner and the love child, in his struggle to liberate himself from the built-in and forceful habits of the ego and becoming free through motion, music and creative exploration.

In a way, it is also an analogy for the VIGGO collective working our way towards the stage. The production and narrative of the videos is not planned in advance, and the result, given the right song and the dedication of the people involved, is based on believing that everything will come together in a perfect imperfect VIGGO-way. The third video will be the next natural step for our alter ego, but we do not yet know what that is. It will depend on the song we choose, the location we end up in an, I guess, where Geir is at in his head and body the day of the shoot.
How did you get to know Antero Hein and Geir Hytten? What is the connection?
M: We wanted to incorporate different artistic genres into the collective, and Charlotte and I had an idea to make a dance video for our first single. We wanted it to feel strange and unexpected, kind of "off", in a way, and ideally a little funny and beautiful and sad at the same time. Hearing this, Sjur thought of Hytten, a dancer and old friend he has worked with a few times before. The first time we all met Hytten and watched him doing an impro with a garden chair in the back yard at Sjur's place, we immediately knew he was our guy. He is the impersonation of VIGGO. His method of working, his movements and his personality fit our "profile" perfectly, and he has become an obvious part of the collective from that day on.
Geir then mentioned Antero Hein, a peripheral acquaintance. We believed that as someone who is not only a talented and artistic photographer, but also a professional dancer himself, he might easily catch what we were trying to convey. We met him the first time on the day of filming the video. The location was decided just the day before. Geir had some moves and the right shirt, Antero had the equipments, we had the music and then we all just showed up. The whole thing was recorded in about five hours, and we knew we had the right crew in place for the long run.
We somehow feel like Geir Hytten should be given a character name, or names in different videos. What do you think his names would be?
C: This is an intriguing idea, but VIGGO is our alter ego, and we believe it is a good idea to avoid focusing on too many aspects. VIGGO is a fascinating, beautiful character in a quite unpredictable universe, in himself just enough for us all to handle.
Is it intentional to use a male actor to mediate the female singing music of VIGGO?
S: No, Geir would have been the body of VIGGO even if he had been born a woman. Gender is insignificant. 
Okay, let's focus on the new single
Be One

. Can you tell us more about the background of the song? Has one of the members gone through some disruptive relationships lately?

M: Well, yes! But that is not really what the song is about any more. When a piece of lyrics is put into the VIGGO context it opens up and turns into being about something more universal.

S & C: The song looks into the individual's search for love and acceptance from others as well as a connection to its surroundings. It raises the question of whether or not such a strive can act against its purpose if one is not sufficiently aware of one's personal motives. You might just end up feeling alienated instead, pushing others away and hurting them in the process. Often the very ones you initially wanted to keep close to heart, the ones you wanted to impress by becoming someone. You forget that we are all one. It actually touches on the very concept of our project.
What can we expect from your upcoming singles? And what can we expect from the album?
S: We have not decided which song to release next, but in the pile of music we have made so far, Habit is definitely the happy one. Not all the songs are as upbeat as the ones we have released.
C: VIGGO is a mix of Sjur, Marte and Charlotte, and so is the music. There will be a great variation in the songs, some of them feel darker and some feel brighter, and even Habit isn't such a happy tune when you think about it. 
M: True, the lyrics of Habit are actually about being stuck and no less existential struggle. But again, I value the contrast in this. And we do try to offer some friendly advice. We try not to shy away from the big issues in the lyrics, so there are songs about everything from depression and destructiveness to spirituality, reincarnation, old age, grief and timeless love stories.

Last but not least, as we are obsessed with Oslo, can you share your relationship to Oslo with us? Where in Oslo do you think VIGGO's music fits the best?
S: VIGGO as a band was formally established on a wonderful small pub in Rosteds gate called Orlando. I was born in Oslo, spent the major part of my childhood in Kampen and currently reside in Vålerenga with my family. It has been a wonderful ride following the development of this part of Oslo the last 30 years! My favourite place, for dining and drinking, is obviously Kampen Bistro. I watch football at Vålerenga Vertshus, a classic pub for the locals.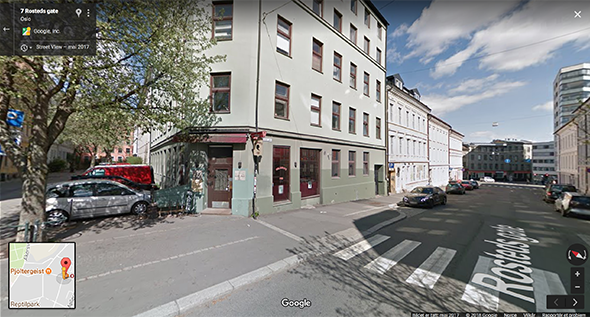 The idea of VIGGO was hatched over a beer at this 22-year old pub Orlando.
C: I was born in Iceland, but I grew up in Mandal and moved to Oslo to study theatre when I was 18. I have lived here since, apart from four years in Copenhagen, and most of the time I have been living in St.Hanshaugen, a part of the city I will always love. I used to hang out at Underwater Pub listening to opera or drink cheap beer at Sofies vertshus. Right now my favourites are Orlando's pub, for obvious reasons. On the rare occasions that we experience a really hot summer in Oslo, I love drinking white wine outside Litteraturhuset chatting with strangers (as well as the people I am already hanging with, hehe). Then there is Torggata Botaniske and the drinks there, Izakaya at St. Olavs plass, and I also really like Kampen Bistro where I have had some of my most memorable nights out. I actually played my first solo gig ever there. Right now I live in Smestad/Makrellbekken, a residential area lacking any pubs or bars of interest. I REALLY miss that.
M: Even though both Charlotte and I originally come from cities in the very south of Norway, and parallelly lived in Copenhagen for 4-5 years (not knowing about each other), we are all based in Oslo now, spread out from Vålerenga, through Torshov and all the way to the west-side close to Holmenkollen. We usually meet in the studio at Sjur's place, where we also always hang out on the 17th of may with our families. We are all so busy that at times we have to use "important" work or a national day as an excuse to hang out.
Charlotte and I first met doing a split gig at the great little concert venue Mono, and the first time I ever saw Sjur play was on stage at Parkteatret in Grünerløkka. I fell in love with both of them instantly and knew that they were going to play important parts in my life.
I live in Torshov with my daughter and we're growing very fond of the place with all its parks and sympathetic people. I recommend the new bar Albatross in Torshovgata. It just opened and I already feel like it has always been there. Good music, good people, and good anything you like to drink. I also love taking one of the boats out to Gressholmen for a swim and eating at new Gressholmen kro in the summer! I think VIGGO's music would work very well in all these places.
This is the first piece from our new series New Norwegian Act of the Month. Follow us on Instagram or Facebook and subscribe to our newsletter if you don't wanna overlook any new Norwegian talent! And grab yourself a copy of Oh Oslo – The Music Issue to read more about the music scene in Oslo!